Do you want to incorporate a bit of our heritage into your wedding? Here are a few cool ways how to do just that.
Be it a full-blown African ceremony with head wrap or a drum-inspired wedding march or simply patronizing Black-owned caterers and other suppliers, African-American couples want their big day to reflect their heritage. But, unless you know where to go, it's not always easy to bring the elements together. So we've done the homework to save you some legwork.

Aisle-worthy fashion
Bride ideas: The most memorable weddings begin with an unforgettable bridal gown. It should fit your style and personality and make you look like the goddess you are. Check out the Therez Fleetwood collection, which is featured on VibrantBride.com Ethnic Gown Gallery. This is the place for the African-inspired bride-from modern interpretations of ancient garb from Egypt and Africa to contemporary designs with understated African references. If Afrocentric is not your style, sister designer Amsale Aberra offers up-to-the-minute fashion with a hint of tradition. Amsale has outfitted stars such as Vanessa Williams and Vivica A. Fox.
Manale's couture wedding gowns is another great Black-owned resource for high-style.
For my girls that are confident enough to wrap thheir head like a Queen, a Gele is the word of the day. No one doee Gele wraps like design house Segungele International of Houston: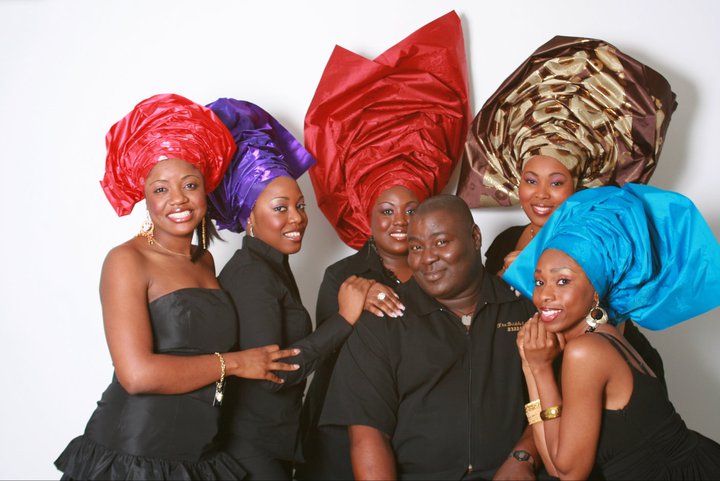 Tux with a twist:
We can't forget the brothers, after all it's their day too. A dramatic outfit for men is the agbada, a tunic or robe created from asoke fabric from Nigeria that features elaborate embroidery on cotton.
Make A Statement With Jewelry
Use bold jewelry to add drama and a hint of our exotiic culture.
(Image by © Suresh Natarajan; Jewelry by Tanishq Aarka)