According to Post, it's okay to ask for money as a wedding gift, however, it is extremely important to do so politely.
Here are some of Post's suggestions:
If money is the gift you would most appreciate, get the word out to family and close friends.
If you are asked point blank what you would like, you might say, "Whatever you want to give us is wonderful, the choice is yours, but money is at the top of our wish list."
It's also a good idea to state the intended purpose. Perhaps you are saving for a down payment on a house or your honeymoon. Guests will then know how their gift may be used.
Indeed, monetary gifting is a preferred bridal gift among couples and guests alike. Post points out that wedding guests, too, often ask if money is an acceptable gift. In a word, Post replies: absolutely. If wondering about the perfect gift, give Gift Certificates available at Ross Simons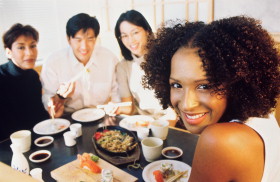 "With more second marriages and couples coming to the altar with established households, there's not as much need today for toasters, tumblers and table settings. For many couples, money makes an ideal gift," says Post. "And there are terrific options in monetary gifting today; guests should consider alternatives to cash and personal checks such as universal gift certificates. I like the American Express Gift Cheque, which comes attractively packaged in a gold envelope just as a present should be."
According to American Express Vice President Kristine Olson, the elegant presentation of Gift Certificates has a definite impact on the gift recipient.
"What we find with Gift Certificates is that there's a special, keepsake value unlike cash or personal checks. Couples actually hold onto Gift Certificates they receive until they find the exact, perfect thing they want to buy with them, whether they want to put it toward furnishing their house or even to help pay for their wedding," says Olson. "Conversely, couples are likely to put cash or personal checks into their wallets or bank accounts and unwittingly spend these wedding gifts on mundane expenses such as groceries or utility bills."
Gift Tip Verse 1
Your presence at our wedding is present enough!
But if we're honored with a gift from you,
may we respectfully request a gift of money
to help the dream of our new home come true!

Gift Tip Verse 2
We're dreaming of a honeymoon
and we hope our dreams come true...
if you helped us fund our trip
we'd be so grateful to you!

Gift Tip Verse 3
We have two of EVERYTHING because
joining lives means joining households, too!
So please don't give us another toaster --
a gift of money is what we'd appreciate from you!

Gift Tip Verse 4
We didn't register
We don't need more stuff
But when it comes to financial help
You can never have enough!

Gift Tip Verse 5
We have our hearts set on a trip to Hawaii,
We're saving every nickel and dime.
So if you aren't sure what to get for a wedding present
A gift of cash would be just divine!